Eventing Champs.
The Canterbury Area Pony Club eventing team were triumphant in bringing home NZPCA Perpetual Challenge Cup over the past weekend. The Championships were held in Northland so it was a huge undertaking to get the riders and their horses safely to Whangarei. Logistically and financially the trip was huge. The challenge is getting the team there in time so they are ready to compete in the testing competition. Canterbury were sitting third after the dressage on the first day. All of the horses were well settled and ready to work. The team improved their place after the challenging XC, set on the picturesque hills of Barge Park. The terrain was as challenging as it was beautiful. Two weeks of wet weather preceding the event as well as rain during the competition made conditions difficult. The Canterbury team rode to these conditions well and pulled off 5 rounds clear of jump faults and just a few time faults to add to their total. Show Jumping day dawned a little wet again tho conditions did improve a little as the jumping began. The 2 youngest members of the team Charlotte Thomas and Sophie Jarvis jumped first and both produced fantastic clear rounds. This really spurred on the the older riders as a taste of victory came closer. Each class was jumped in reverse order so the pressure only intensified as the morning went on. Canterbury came out on top by a mere 1.4 faults from fellow South Islanders Marlborough Nelson West Coast. It all came down to team captain Jessie Fitzjohn to hold things together, which she did admirably. It has been 10 years since the Trophy was held by Canterbury.? As well as the team trophy, Charlotte Thomas riding Picollo were placed 4th individually in the MT section and Niamh Rayne riding My Hallucination were 3rd in the DC section. ? North Canterbury pony club riders dominated the team with three riders belonging to View Hill pony club Jessie Fitzjohn, Jordan Kruger and Charlotte Thomas. One rider from Oxford pony club Sophie Jarvis. The last 2 spots were held by Tayla Moriarty from Waiau pony club and Niamh Rayne from Springston Pony Club. The team was managed by Sharon Rayne and coached by Becci Thomas.
Charlotte Thomas with Picollo holding the NZPCA Perpetual Challenge Cup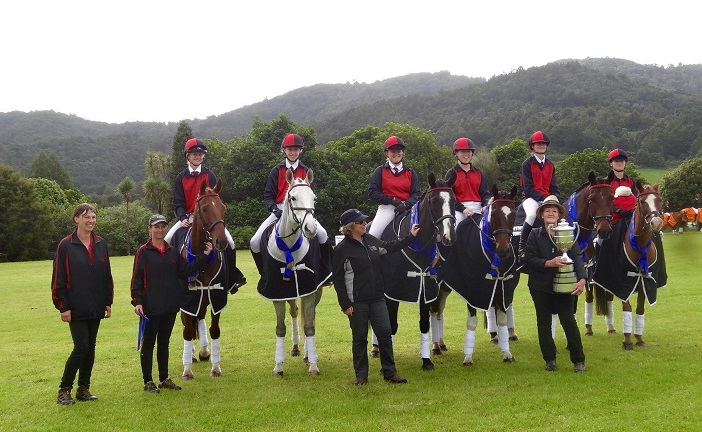 Team Manager Sharon Rayne, Team Trainer Becci Thomas, Team Captain Jessie Fitzjohn, Niamh Rayne, Jordan Kruger, Tayla Moriarty, Sophie Jarvis and Charlotte Thomas.
Kowhai mini event Sunday 26th March.
This is a special one day event for first time eventers, there will be lots of help and support to make sure everyone has a great day. This event is open to both adults & children.
Pretraining - basic suitable for new combinations.
Heights will be 45cm, 60cm & 80cm.
There will be a basic dressage test, show jumping round and a small cross country.
Riders need to attend Kowhai for the whole weekend as there will be some set up and preparation for the event on the Saturday.
There is no entry fee for the event if you are staying for the weekend.
Parents welcome and some helpers would be great.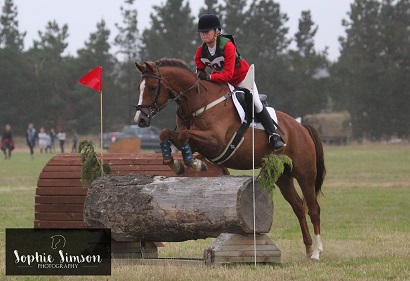 Congratulations to Charlotte Thomas & Jessie Fitzjohn who will be travelling up to Whangarei representing Canterbury at the New Zealand Pony Club eventing champs in April.
Special Adult Riders Teams Event for the Carleton Trophy 11th March (postponement 12th March)
Held at Kowhai 711 Island Rd, Oxford. Will be sign posted from the View Hill Domain.
Teams of 4: preferably one from each age group & 1 more. Single entries welcome we will team you up with others.
26 – 45 years 80cm
46 – 56 years 60cm
57 + over 40cm
You may ride up or down if you prefer, just state which height you want to jump.
It is not necessary to have one person in each age group, these are just guide lines.
Dressage test below.
XC will have a compulsory rest with glass of wine midway through.
Mini SJ course.
Entries close 28th February
Some accommodation for horses and riders may be available.
Judges supplied from VHPC members (bribes to Liz)
This event is open to anyone, this is a fun event suitable for all levels.
Entries $50pp if bringing your own horse - entries to: liz@kowhai.co.nz
If booking at Kowhai for the entire weekend no entry fee. (using a Kowhai horse, cost is $220 or usual price for members)
Dressage test.
1. Enter at A at working trot, at C track right.
2. At B 20m circle.
3. On returning to B ride with heels down to C.
4. At M change rein across the diagonal, walking at X
5. At A working trot, at B 20 m circle
6. Continue to C and turn down centre line.
7. At G leg yield to right arriving at the track at K
8. Between K and A canter left. At H change rein across the diagonal trotting at X
9. At F track right. Between K and H shoulder in right (Or ride with reins in left hand indicating no, no, no with right hand)
10. Between C and M canter right.
11. At F trot, at A turn up centre line , at X walk, at G halt and salute.
Leave arena at free walk on a long rein
Test may be called for a penalty of 5 points.
No birth certificates required to authenticate age!
Whips may be carried and Spurs may be worn. No stock whips or swearing!
Four course errors = Elimination.
Parent & Child weekend at Kowhai 18-19 Feb
Lessons from basics to dressage, Show jumping and Cross Country. Scenic farm trekking.
Cost $160 each person for the weekend. (special price, adults are usually $220 weekend)
Non riding parents also welcome $90 weekend
Basic dorm accommodation included or you can upgrade to a private room for an extra $90
Copyright © Kowhai Residential School of Riding Limited